Laboratory of Molecular Biology
---
The main activity of the Laboratory of Molecular Biology on the Institute of Forest Genetics, Dendrology and Botany is focused on scientific researches in the areas of population genetics of forest trees and researches related to the climate-change impact on populations and specimen of forest trees using genetic and epigenetic markers. Also the researches related to the diagnoses of pathogenic and other fungi on the DNA samples of forest trees are carried out in the Laboratory that is also equipped for the researches of the DNA samples of other organisms for forestry and hunting purposes.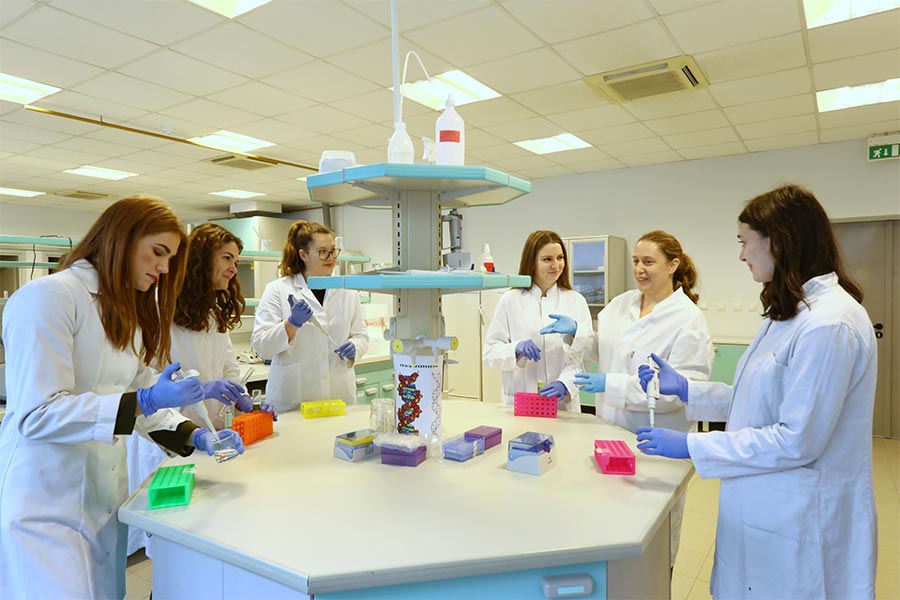 The following activities are performed in the laboratory:
isolation of DNA from plant and animal material and fungi
polymerase chain reaction for different DNA marker methods
Agarose Gel Electrophoresis for the primary visualisation of  DNA fragments 
Visualisation and measurement of DNA fragments with transilluminators and adequate software
---

DISTINGUISHED RESEARCHES
Genotyping and analysis of genetic diversity of clones from the pedunculate oak clonal seed orchards in Croatia using core and chloroplast microsatellite (nSSR and cpSSR) DNA markers within the MSES project "Conservation of genetic resources and breeding of lowland forest trees"
Genetic diversity analysis of seed orchards of the pedunculate oak in Croatia using core and chloroplast microsatellite (nSSR and cpSSR) DNA markers within the MSES "Plant Breeding and Forest Seed Science" project.
Analysis of the genetic and epigenetic diversity of the European pedunculate oak populations and test specimens using core microsatellite (nSSR), EST - SSR, AFLP and MSAP markers as part of the HRZZ project "Phenotypic and Epigenetic Response to Drought Stess and Adaptability of Pedunculate Oak Populations (Quercus robur L .) along a Latitudinal Gradient."
Fungal DNA Isolation from tissues and seeds of forest trees (field ash and holm oak) and determination of fungal species by specific PCR primers as part of the HRZZ projects "The Role of Biotic Agents on Vitality of Narrow-Leafed Ash  (Fraxinus angustifolia Vahl) in the Flooded Forests in Croatia" and Ministry of Agriculture "Integrated Protection of Croatian Forest Ecosystems of Karst Areas in Changed Climate Conditions")
Apart from the scientific activity, the Molecular Biological Laboratory is used also for students' education in undergraduate, graduate and postgraduate programme studies.  Exercises of courses related to genetics, breeding and conservation of genetic diversity of forest trees and shrubs are carried out in the laboratory.