Iz tiska izašla knjiga prof. dr. sc. Marilene Idžijotić: "Dendrology: Cones, Flowers, Fruits and Seeds"
Nakladnik: Elsevier, edicija Academic Press.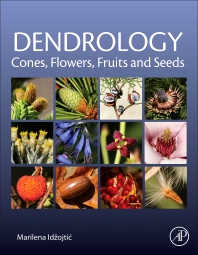 Opširnije o knjizi
 
Knjiga "Dendrology: Cones, Flowers, Fruits and Seeds" sadrži detaljan pregled morfologije generativnih organa i podatke o reproduktivnoj biologiji drvenastih biljaka zanačajnih za europsku dendrologiju. U knjizi su opisani i fotografijama detaljno prikazani generativni organi 2020 svojti, odnosno 845 vrsta, 58 podvrsta, 38 varijeteta, 13 formi, 40 križanaca i 1026 kultivara, iz 400 rodova i 121 porodice. Brojne fotografije značajno pridonose vrijednosti knjige te omogućuju potvrdu determinacije neke svojte na osnovi češera, cvjetova, plodova i sjemenki. Osim 447 svojti drveća i grmlja autohtonih u Europi, u knjizi su opisane i brojne ukrasne vrste koje se uzgajaju u Europi, a potječu s drugih kontinenata. Opisane su i invazivne drvenaste vrste koje ugrožavaju bioraznolikost europskih ekosustava. U knjizi su prikazani brojni ukrasni kultivari i križanci koji se često uzgajaju u europskim vrtovima i perivojima, a razlikuju se od drugih kultivara iste vrste ili roda prema cvjetovima i plodovima.
Osnova za pisanje ove knjige bio je udžbenik "Dendrologija: cvijet, češer, plod, sjeme" iste autorice, u nakladi Fakulteta šumarstva i drvne tehnologije Sveučilišta u Zagrebu i Hrvatskih šuma d.o.o., iz 2013. godine. Ova knjiga na engleskom jeziku značajno je proširena te sadrži dvostruko više svojti nego hrvatsko izdanje, kao i značajno veći broj fotografija, 6644, a brojne su fotografije iz hrvatskoga izdanja zamijenjene novima.
Knjiga je namijenjena studentima, nastavnicima, znanstvenicima i stručnjacima koji se bave dendrologijom, botanikom, šumarstvom, arborikulturom, hortikulturom i krajobraznom arhitekturom.
 
Hardcover ISBN: 9780444641755
Jezik: engleski
Broj stranica: 768
Više informacija:
https://www.elsevier.com/books/dendrology-cones-flowers-fruits-and-seeds/idzojtic/978-0-444-64175-5